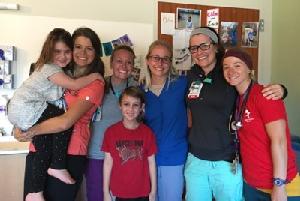 Our Big B's Family was touched by outstanding care and loving kindness received at Children's Hospital Colorado. The doctors, nurses, staff and volunteers were absolutely amazing. We would like to invite our community to join us in raising funds to help other families in need at Children's Colorado.
We are raising money to provide rapid financial assistance and support to patient families who, as a result of their child's serious illness or injury, find themselves unable to cover the cost of immediate basic daily needs while caring for their child. These contributions will be used primarily to benefit families who are actively receiving care in the Pediatric Intensive Care Unit (PICU) at Children's Colorado.
Please join us in helping other families as they care for their child. Together, we can really make a difference in these families' lives.
We truly appreciate you joining us in this effort,
The Big B's Family
If you have any questions about your donation, you can call the Children's Colorado Foundation directly at 720-777-1700.
If you have any questions about Big B's matching contribution to this campaign, call Big B's at 720-255-1801.
View More